Wellness Wonder Walks 14 Oct - 2 Dec
Free fun walks in Roundwood Park to improve health and wellbeing. Join us for a series of 8 weekly walks, combining storytelling, fun and mindfulness activities.
In and Around Roundwood Park
 After a short exploration of this first municipal park in Willesden, we will stroll down Robson Avenue and Pound Lane, revealing the secrets behind the street names and the places of historic interest – past and present.
Wellness Wonder Walks
Roundwood Park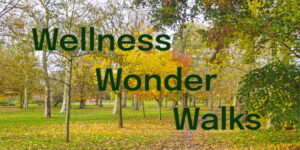 14 October – 2 December 2022
12  – 1 pm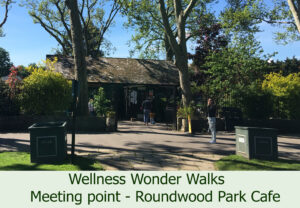 Be active   *   Have fun   *   Make new friends
Come along for a series of 8 weekly walking adventures, which will combine storytelling, poetry, creative arts and dance with meditation and mindfulness activities to engage your senses and calm the mind. Our gentle walks will help improve your wellbeing, reduce stress and achieve a more relaxed and peaceful state of mind.
We will share stories from local history, folklore, legends about nature, poems and music, – you will never look at your local park in the same way again!
Our walks will leave you revitalised and infused with energy, giving your mental and physical strength a new lease of life.
Each week will have a different content. We will start and finish by the entrance to the Roundwood Park Café.
Meet your fellow walkers and make new friends – after the walk, our informal Wellness Wonder Walks club will meet for some social time over a cup of tea at the café.
The walk is lead by Irina Porter and Christine Coker. 
Irina is a Blue Badge London guide with a life long passion for British history and culture. Irina is Chair and Journal Editor of the Willesden Local History Society, local history author and researcher. (https://www.guide-for-london.com/)

Christine Coker is a Mindfulness Practitioner and fitness coach who delivers courses and workshops for corporate and community organisations, NHS and further education establishments. Christine has been in the wellness industry for 30 year. (https://www.wellnessinyourbox.com/)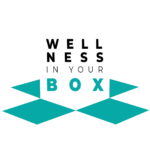 You do not need to book and can turn up at any date. However, it will help us to know the numbers of people coming, so we'd appreciate a booking.
The walks are free and have been funded by the Sport England Together Fund and supported by London Sport.


In and Around Roundwood Park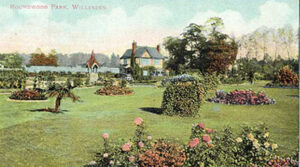 Roundwood was the first municipal park in Willesden, opened in 1895 and 'dedicated forever to the people'. With many traditional Victorian features and usual additions, like an aviary, the park has served the local community ever since. It hosted Willesden Carnivals, Brent Shows, theatre performances and funfairs. We uncover the rich history of the park and the personalities behind it, connected the past to the present.
The walk is lead by Irina Porter. Irina is a Blue Badge London guide with a life long passion for British history and culture. Irina is Chair and Journal Editor of the Willesden Local History Society, local history author and researcher. (https://www.guide-for-london.com/)